Epidemiologist

The main role of epidemiologists is to support outbreak interventions and planning/implementation of epidemiological surveys to identify outbreak areas. In addition, those in this position may manage the investigation of morbidity and mortality as well as the construction and evaluation of an infectious disease investigation system.
Activities
Prepare epidemiological survey protocols such as nutrition survey, mortality survey, and KAP survey; oversee data collection, analysis, reflection of project analysis results, and staff guidance
Collect and analyze outbreak data, create reports, examine response methods, and determine strategies
Construct a surveillance system in the project area and analyze data, including system practice, community, and hospital data
Submit activity reports related to epidemiology and data management (patient files, forms, statistics, databases)
Manage teams (epidemiological team recruitment, training, performance evaluation, etc.)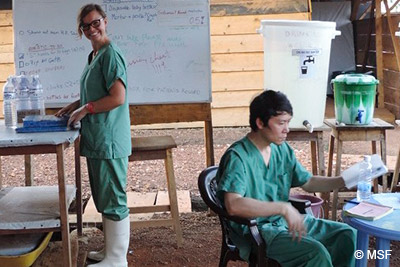 Qualifications
Requirements
Essential

Compliance with Essential Requirements for all potential candidates

Essential

Master's degree in epidemiology or international public health with a focus on epidemiology

Essential

Experience in survey design, implementation, and evaluation, as well as practical experience with quantitative and qualitative surveys

Essential

Able to design and implement surveillance and data collection to monitor diseases and outbreaks

Essential

Management/supervision/teaching experience

Essential

Ability to work in English and/or in French

Desirable

Experience working as a doctor or other healthcare professional

Desirable

Familiarity with tropical medicine and infectious diseases

Desirable

Experience in outbreak emergency response

Desirable

Short-term (3-6 week) survey/reporting experience

Desirable

Available for a minimum of 3 to 12 months
Submit your application
Please first prepare your CV (free form) and a motivation letter. Some positions may request you to download and fill specific CV (MSF CV template) and a technical check list. Please check below to ensure document(s) requested for your profile. You need to fill all necessary documents in English or French, then complete your application through our online form.
①

CV (free form)

②

Motivation letter
Médecins Sans Frontières (MSF) accepts applications for international positions through the form below.
Online application
Medical Guidelines
Information about clinical and medical necessities for MSF's activities in developing countries, such as required medical supplies, clinical guidelines, refugee healthcare, tuberculosis, obstetrics, and so on, is available on our website (English)
. PDF materials, ebook materials, and a smartphone application are available for download. Printed materials are made available at our information sessions.