Work with MSF

Médecins Sans Frontières (MSF) field workers are working in approximately 90 countries and regions around the world, bringing life-saving medical assistance to people in need.
MSF Japan recruits field staff from Japan all year round and sends them to many of the countries in which MSF operates. We recruit not only medical staff but also non-medical staff, such as logisticians, administrators and coordinators.
Working overseas with MSF can be tough and demanding but it can also be extremely rewarding.
MSF Japan also recruits staff for the Tokyo office when there are vacancies.
Work in the field
Submit your application
Please first prepare your CV (free form) and a motivation letter. Some positions may request you to download and fill specific CV (MSF CV template) and a technical check list. Please check the page for the position you would like to apply for, to ensure what document(s) are requested for your profile. You will need to fill all the necessary documents in English or French, then complete your application through our online application form.
Online application
Work in the Tokyo Office
Office vacancies
Find about position vacancies in our Tokyo office here.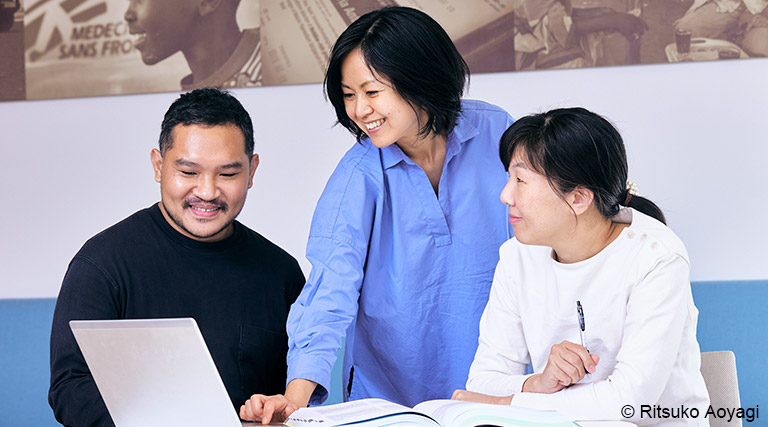 FAQ
Find answers to the frequently asked questions about recruitment, work conditions and career development opportunities.
Q

Is there an upper age limit for field workers?

No. However, field workers do need to have the physical and mental fitness to cope with the demanding conditions that may be encountered on a field assignment.
Q

Can I specify places I do not want to go to, or somewhere I especially want to go to?

As part of our charter, we assist populations in danger regardless of whom or where they are. As such, we ask people who work with us to adopt the same principles. You might, for example, have language skills or cultural experience that is suitable for certain countries. This will be taken into consideration when matching you with a position, but generally we place people based on our project needs.
Q

How long does the recruitment and matching process take?

It may take more than one month from the time of application to validation/registration. After validation/registration, we start matching a person to a position. This could take weeks or months depending on various factors, including your availability and vacant field positions. Therefore, your registration does not mean you will be able to go on a field assignment immediately. For the recruitment process, refer to the "How to apply" page.