Pharmacist

Pharmacists coordinate and supervise pharmacy operations of hospitals and clinics operated and supported by MSF as well as manage the proper use of pharmaceutical and medical supplies according to MSF's protocols and national and international legislation. Generic brands of medicine are used, and names differ from those available in Japan. Please refer to the MSF Essential Drugs
guidelines for the country in question.
Activities
Ensure compliance of pharmaceutical practices according to national regulations
Ensure the quality of all medical supplies (medicines, medical devices, and laboratory equipment)
Ensure management of medicines and medical equipment: order, storage and distribution
Analyze the consumption data, in accordance with medical protocols
Ensure good practices of drug delivery
Supervise staff in charge of the daily management of products
Support the development of strategies
Actively participate in developing plans and annual budget
Participate in monthly reports in accordance with directives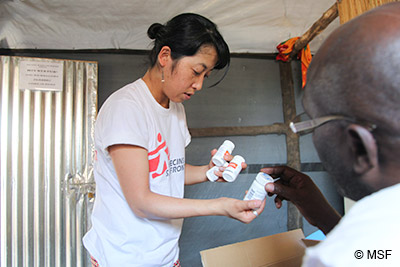 Qualifications
Requirements
Essential

Compliance with Essential Requirements for all potential candidates

Essential

2 or more years of clinical experience

Essential

Work experience in a general hospital

Essential

Management/supervision/teaching experience

Essential

Ability to work in English and/or in French

Desirable

Experience abroad (especially in developing countries)

Desirable

Inventory management experience

Desirable

Available for a minimum of 6 to 12 months
Submit your application
Please first prepare your CV (free form) and a motivation letter. Some positions may request you to download and fill specific CV (MSF CV template) and a technical check list. Please check below to ensure document(s) requested for your profile. You need to fill all necessary documents in English or French, then complete your application through our online form.
①

CV (free form)

②

Motivation letter
Médecins Sans Frontières (MSF) accepts applications for international positions through the form below.
Online application
Medical Guidelines
Information about clinical and medical necessities for MSF's activities in developing countries, such as required medical supplies, clinical guidelines, refugee healthcare, tuberculosis, obstetrics, and so on, is available on our website (English)
. PDF materials, ebook materials, and a smartphone application are available for download. Printed materials are made available at our information sessions.