Paediatrician

Paediatricians are responsible for all medical care and guidance in the field of paediatrics, excluding surgery. Those in this position mainly deal with acute cases such as malaria, acute respiratory infections, malnutrition, tuberculosis, and HIV. Diagnosis and treatment are based on the guidelines of MSF. Paediatricians conduct clinical training for and work together with locally hired staff to provide on-call support within their assigned project. For complex cases, they may also work with a specialist through telemedicine.
With testing, treatment, and personnel resources limited, paediatricians can sometimes experience high mortality when working on their own, therefore, a strong mind as well as high leadership and management skills are required. They must respond flexibly to the changing needs and problems that arise.
Activities
Provide treatment and guidance for malnourished patients, resuscitation of newborns and low birth weight infants, and management of chronic conditions such as diabetes, nephrotic syndrome, and heart disease
Guide outpatient care for paediatric patients with various infectious diseases
Practice and supervise MSF guidelines, create in-hospital protocols (such as nosocomial infection prevention measures), and conduct planning and guidance as necessary
Submit activity reports, manage data (patient files, forms, statistics, databases, cause of death investigations, etc.), prepare materials for M&M conferences, etc.
Guide vaccination and communication between patients, their families, and healthcare professionals
Manage and order pharmaceutical supplies, test reagents, and other supplies necessary for paediatric care
Cooperate with surgeons as needed to carry out perioperative management (preoperative and postoperative)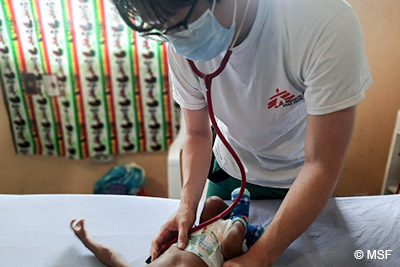 Qualifications
Requirements
Essential

Compliance with Essential Requirements for all potential candidates

Essential

Medical doctor degree

Essential

Paediatrics specialisation or ongoing specialisation, with a minimum of three years of professional experience in paediatrics

Essential

Ability to work in English and/or French

Desirable

Management/teaching experience

Desirable

APLS, HBB

Desirable

Neonatal care and NICU experience

Desirable

Available for a minimum of 6 months
Submit your application
Please first prepare your CV (free form) and a motivation letter. Some positions may request you to download and fill specific CV (MSF CV template) and a technical check list. Please check below to ensure document(s) requested for your profile. You need to fill all necessary documents in English or French, then complete your application through our online form.
①

CV (free form)

②

Motivation letter
Médecins Sans Frontières (MSF) accepts applications for international positions through the form below.
Online application
Medical Guidelines
Information about clinical and medical necessities for MSF's activities in developing countries, such as required medical supplies, clinical guidelines, refugee healthcare, tuberculosis, obstetrics, and so on, is available on our website (English)
. PDF materials, ebook materials, and a smartphone application are available for download. Printed materials are made available at our information sessions.