Operating theatre (OT) nurse

Operating theatre (OT) nurses support a wide range of surgical fields, including natural disaster and conflict trauma and surgical treatment in areas where medical access is scarce. Those in this position provide direct and indirect assistance to patients. They are also entrusted with hiring local operating room nurses, planning and implementing daily work guidance and training, ordering pharmaceutical supplies, and managing inventory. OT nurses manage the operating room, recovery room, and medical equipment sterilization team as well as submit business reports on a regular basis. They may be on-call 24 hours a day.
Activities
Provide direct and indirect assistance in a wide range of surgical operations
Support preoperative and postoperative rounds (determination of surgical schedule, postoperative follow-up, etc.)
Provide guidance to locally hired staff, including sterilization specialists and cleaners; plan and implement training
Oversee supervisor training and team management for the entire surgery department (including recovery room)
Provide infection control training for staff involved in the surgical department
Recruit local operating room nurses, sterilisation specialists, and cleaners
Guide sterilization specialists in instrument cleaning, sterilisation methods, and autoclave handling based on MSF guidelines
Implement staff training for MCP (Mass Casualty Plan) based on the project
Support staff in other departments depending on the level of cooperation between departments
Order and manage inventory, such as surgical instruments, machines, and pharmaceutical supplies required for the project
Submit activity reports and manage data (patient files, forms, statistics, databases, etc.)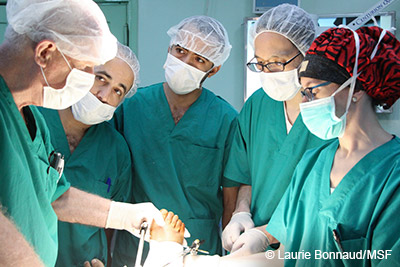 Qualifications
Requirements
Essential

Compliance with Essential Requirements for all potential candidates

Essential

The operating theatre nurse must have a recent professional experience of at least 4 years as a circulating nurse, but also as a scrub nurse in a multidisciplinary operating room, without a career gap of more than 1 year

Essential

Experience in direct and indirect care for a wide range of operations, such as obstetrics, orthopaedics, and general surgery

Essential

Experience sterilising surgical instruments

Essential

Management/supervision/teaching experience

Essential

Ability to work in English and/or in French

Desirable

Experience in paediatric surgery

Desirable

Experience in vascular surgery

Desirable

Available for a minimum of 1 month to 6 months
Submit your application
Please first prepare your CV (free form) and a motivation letter. Some positions may request you to download and fill specific CV (MSF CV template) and a technical check list. Please check below to ensure document(s) requested for your profile. You need to fill all necessary documents in English or French, then complete your application through our online form.
①

CV (free form)

②

Motivation letter
Médecins Sans Frontières (MSF) accepts applications for international positions through the form below.
Online application
Medical Guidelines
Information about clinical and medical necessities for MSF's activities in developing countries, such as required medical supplies, clinical guidelines, refugee healthcare, tuberculosis, obstetrics, and so on, is available on our website (English)
. PDF materials, ebook materials, and a smartphone application are available for download. Printed materials are made available at our information sessions.