Obstetrician/Gynecologist (OB/GYN)

Obstetrician gynecologists work with limited medical equipment, supplies, and human resources to ensure thorough obstetric care and safe delivery for all patients, following guidelines set by MSF. Obstetrician gynecologists mainly manage the perinatal period of high-risk pregnancies and are in charge of performing obstetric surgery and preoperative and postoperative management (normal delivery is assisted by a local midwife). Because many projects have only one doctor in this position, they are on-call 24 hours a day. In addition, they must have the flexibility to deal with pregnancy complications that are rarely encountered in clinical practice in Japan, such as placental abruption, uterine rupture, eclampsia, and breech birth. Quick and accurate judgment and high technical ability are required.
Activities
Carry out perinatal management for high-risk pregnancies to reduce maternal mortality, including rapid delivery (suction/forceps delivery, cesarean section), medical/surgical treatment for laxative bleeding (hysterectomy under laparotomy and sutures), abortion treatment (medicine/surgery), etc.
Practice and supervise MSF guidelines, including maintenance and supervision of the ward and delivery room
Guide and train locally hired staff (doctors and midwives); engage in management work (recruitment, performance evaluation, etc.)
Submit activity reports and manage data (patient files, forms, statistics, databases, etc.)
Manage and order pharmaceutical supplies and surgical equipment required for obstetric care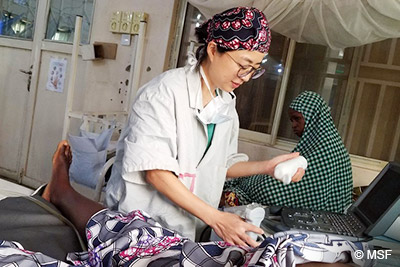 Qualifications
Requirements
Essential

Compliance with Essential Requirements for all potential candidates

Essential

Medical doctor diploma in obstetrics-gynecology

Essential

Experience performing emergency delivery, cesarean section, and hysterectomy via laparotomy

Essential

Experience teaching newcomers or in the field of education

Essential

Ability to work in English and/or in French

Desirable

Degree or clinical experience in tropical medicine

Desirable

Clinical experience in environments with limited human resources and materials, such as isolated islands, remote areas, and developing countries

Desirable

Experience caring for pregnant women with infectious diseases such as HIV/AIDS

Desirable

Available for a minimum of 6 weeks
Submit your application
Please first prepare your CV (free form) and a motivation letter. Some positions may request you to download and fill specific CV (MSF CV template) and a technical check list. Please check below to ensure document(s) requested for your profile. You need to fill all necessary documents in English or French, then complete your application through our online form.
①

CV (free form)

②

Motivation letter
Médecins Sans Frontières (MSF) accepts applications for international positions through the form below.
Online application
Medical Guidelines
Information about clinical and medical necessities for MSF's activities in developing countries, such as required medical supplies, clinical guidelines, refugee healthcare, tuberculosis, obstetrics, and so on, is available on our website (English)
. PDF materials, ebook materials, and a smartphone application are available for download. Printed materials are made available at our information sessions.