Nurse

The main role of an MSF nurse is to manage and improve the knowledge and skills of the nursing team while building and strengthening teamwork. The scope of work is diverse and varies greatly depending on the location and goal of the project, including pharmacy/medical device management, hygiene management, hospital data management, efficient report creation, hospital infection control, and public health activities. In addition to collaborating with other departments within the project, nurses may also be in charge of diplomacy with related organisations.
Activities
Provide training and follow-up to improve knowledge and skills of locally hired staff
Oversee the selection process for newly hired local staff
Manage pharmacy/medical devices
Collect, manage, and report data; monitor project functions
Control hospital infection
Conduct public health and outreach activities, such as vaccine campaigns and mobile clinics
Collaborate with the human resources department, logistics department, and finance department
Lead diplomacy and negotiations with related organizations when required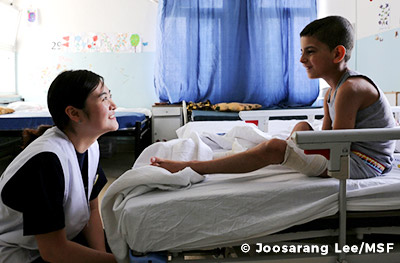 Qualifications
Requirements
Essential

Compliance with Essential Requirements for all potential candidates

Essential

5 years of professional experience

Essential

Ability to work in in English and/or in French

Essential

Degree or clinical experience in tropical medicine

Essential

Over 1 year of infection control experience

Essential

Strong leadership skills

Essential

Management/supervision/teaching experience

Desirable

Extensive experience in surgery, ICU, emergency care, paediatrics (especially NICU, neonatal care), and obstetrics

Desirable

Certified infection control nurse if applying as an infection control specialist

Desirable

Clinical experience with an NGO in a developing country

Desirable

Clinical experience with HIV/AIDS and tuberculosis

Desirable

Clinical experience in environments with limited human resources and materials, such as isolated islands, remote areas, and developing countries

Desirable

Available for a minimum of 6 to 12 months
Submit your application
Please first prepare your CV (free form) and a motivation letter. Some positions may request you to download and fill specific CV (MSF CV template) and a technical check list. Please check below to ensure document(s) requested for your profile. You need to fill all necessary documents in English or French, then complete your application through our online form.
①

CV (free form)

②

Motivation letter
Médecins Sans Frontières (MSF) accepts applications for international positions through the form below.
Online application
Medical Guidelines
Information about clinical and medical necessities for MSF's activities in developing countries, such as required medical supplies, clinical guidelines, refugee healthcare, tuberculosis, obstetrics, and so on, is available on our website (English)
. PDF materials, ebook materials, and a smartphone application are available for download. Printed materials are made available at our information sessions.