Midwife

Midwives provide maternity checkups, childbirth assistance, postpartum care, family planning, and education to prevent sexually transmitted diseases. Assistance is needed for high-risk and abnormal delivery in regions where prenatal care is not common and testing equipment is limited. In areas with a high birth rate, midwives play an important role in helping to ensure vaginal delivery over caesarean section whenever possible.
Activities
Manage the obstetrics ward (work schedule and activity report creation, supply management/ordering, data management, etc.)
Plan and implement daily guidance and technical training for locally hired midwives and nurses
Coach and support local mobile care TBA (Traditional Birth Attendant)
Manage teams (recruitment, training, etc.)
Submit activity reports and manage data (patient files, forms, statistics, databases, etc.)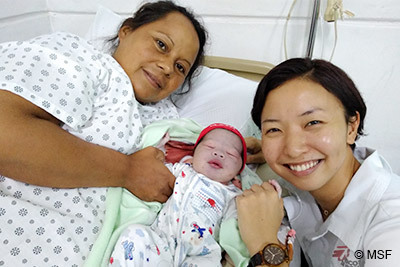 Qualifications
Requirements
Essential

Compliance with Essential Requirements for all potential candidates

Essential

Qualification as a registered midwife

Essential

At least 2 years of professional experience as a midwife

Essential

Extensive experience in high-risk management and abnormal delivery assistance

Essential

Extensive experience in guidance and training of newcomers and teams

Essential

Ability to work in English and/or in French

Essential

ALSO (Advanced Life Support in Obstetrics) certificate

Essential

NCPR (Neonatal Cardio-pulmonary Resuscitation) certificate

Desirable

Experience assisting delivery for pregnant women with infectious diseases such as HIV/AIDS

Desirable

Knowledge of or clinical experience with tropical medicine

Desirable

Clinical experience in environments with limited human resources and materials, such as isolated islands, remote areas, and developing countries
Submit your application
Please first prepare your CV (free form) and a motivation letter. Some positions may request you to download and fill specific CV (MSF CV template) and a technical check list. Please check below to ensure document(s) requested for your profile. You need to fill all necessary documents in English or French, then complete your application through our online form.
①

CV (free form)

②

Motivation letter
Médecins Sans Frontières (MSF) accepts applications for international positions through the form below.
Online application
Medical Guidelines
Information about clinical and medical necessities for MSF's activities in developing countries, such as required medical supplies, clinical guidelines, refugee healthcare, tuberculosis, obstetrics, and so on, is available on our website (English)
. PDF materials, ebook materials, and a smartphone application are available for download. Printed materials are made available at our information sessions.