Infectious disease specialist

Infectious disease specialists deal with various infectious diseases such as HIV, tropical diseases, and tuberculosis. COVID-19 and drug-resistant bacteria have become a particular problem in recent years. MSF's infectious disease specialists are working on treatment and countermeasures for bacterial infections in the most vulnerable patients, such as malnourished children, war-injured people, and patients with HIV.
Activities
Determine countermeasures to address infection by source and route and guide staff on proper PPE use and implementation
Create an infection control manual tailored to local needs and resources
Conduct surveillance, complete assessments, and make recommendations during infectious disease outbreaks
Treat and manage multidrug-resistant tuberculosis, HIV/AIDS (including counseling and education), and emerging/re-emerging infectious diseases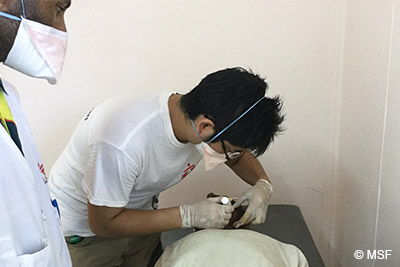 Qualifications
Requirements
Essential

Compliance with Essential Requirements for all potential candidates

Essential

Medical degree with specialty in infectious diseases

Essential

Extensive experience in the field of infectious diseases, including HIV and tuberculosis treatment

Essential

Degree or clinical experience in tropical medicine

Essential

Ability to work in English and/or French

Essential

2 years of practice in hospital context (internship included)

Desirable

Experience on a support team for the proper use of antibacterial drugs

Desirable

Management/teaching experience

Desirable

Available for a minimum of 6 months
Submit your application
Please first prepare your CV (free form) and a motivation letter. Some positions may request you to download and fill specific CV (MSF CV template) and a technical check list. Please check below to ensure document(s) requested for your profile. You need to fill all necessary documents in English or French, then complete your application through our online form.
①

CV (free form)

②

Motivation letter

④

ASP form
Médecins Sans Frontières (MSF) accepts applications for international positions through the form below.
Online application
Medical Guidelines
Information about clinical and medical necessities for MSF's activities in developing countries, such as required medical supplies, clinical guidelines, refugee healthcare, tuberculosis, obstetrics, and so on, is available on our website (English)
. PDF materials, ebook materials, and a smartphone application are available for download. Printed materials are made available at our information sessions.