Health promoter

Health promoters are responsible for overall communication with local residents in order to support MSF's medical assistance activities. Those in this position plan, implement, and evaluate activities to prevent and control various diseases as well as to spread awareness of the work that MSF's is doing. Health promoters play an important role in reaching out to local leaders, residents, experts, and organisations to ensure that MSF's activities are accepted by the community. In addition, they have the important role of facilitating capacity building and leadership development for local health promoters.
Activities
Share quantitative and qualitative survey results with the project team to understand needs and improve the quality of medical activities
Prepare forms to collect information for quantitative/qualitative surveys, manage and analyse data, create reports, and propose plans for improvement
Create communications to spread and deepen awareness on topics relevant to the purpose of each project (hygiene/health education, vaccination, maternity care, sexual violence, etc.); create, implement, and evaluate strategies to deliver these message to local residents
Facilitate discussion with community residents, build a system for cooperation, and promote resident participation in MSF activities
Monitor potential infectious diseases and nutrition status within the community and conduct patients follow-up
Visit medical facilities and remote areas to collect and analyze information and create reports in order to select a new project target community
Manage projects (problem assessment, survey result analysis, planning, implementation, monitoring, evaluation), specifically health promotion strategy, log frame, creation/implementation of a monitoring table, and evaluation planning/implementation
Manage teams, including the planning and implementation of daily guidance, education, and technical improvement training to prepare local health promoters to work independently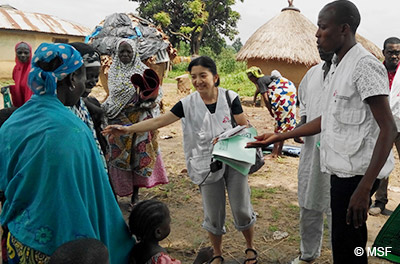 Qualifications
Requirements
Essential

Compliance with Essential Requirements for all potential candidates

Essential

2 years of professional experience working with communities and/or local associations on awareness raising, prevention, mobilisation and/or community strengthening

Essential

Practical experience in quantitative and qualitative survey design, implementation, and evaluation

Essential

Management/supervision/teaching experience

Essential

Ability to work in English and/or in French

Desirable

Experience working in a developing country in a position similar to that of a MSF health promoter

Desirable

Experience planning and creating teaching materials for training

Desirable

Available for a minimum of 6 to 12 months
Submit your application
Please first prepare your CV (free form) and a motivation letter. Some positions may request you to download and fill specific CV (MSF CV template) and a technical check list. Please check below to ensure document(s) requested for your profile. You need to fill all necessary documents in English or French, then complete your application through our online form.
①

CV (free form)

②

Motivation letter
Médecins Sans Frontières (MSF) accepts applications for international positions through the form below.
Online application
Medical Guidelines
Information about clinical and medical necessities for MSF's activities in developing countries, such as required medical supplies, clinical guidelines, refugee healthcare, tuberculosis, obstetrics, and so on, is available on our website (English)
. PDF materials, ebook materials, and a smartphone application are available for download. Printed materials are made available at our information sessions.