General Physician

General physicians are responsible for planning, implementing, and evaluating medical activities in clinics and health centres. Their role is broad, from targeting areas such as HIV/AIDS, tuberculosis, camps for refugees/internally displaced persons, nutritional treatment (including emergency assistance), vaccination campaigns, etc. to acting as a hospital's physician, including work in emergency primary care, wound treatment, and paediatric care. Those in this position deal with a wide range of common diseases, such as diabetes and general bacterial infectious diseases as well as tropical diseases. In addition to medical treatment, general physicians manage and guide locally hired staff and cooperate with medical institutions and governments.
Activities
Diagnose patient conditions relevant to the project and provide medical treatment with limited resources
Compile medical data, report to the operation centre on a regular basis, and engage in consultation when necessary
Provide insight and solve problems regarding patient treatment policies; manage the work of locally hired staff (both doctors and general medical and paramedical staff)
Plan, participate in, and supervise education and training to improve the medical skills of locally hired staff
Provide public health guidance for local communities and patients (cross-cultural medical care based on cultural backgrounds) and cooperate with medical institutions and governments
Facilitate public health knowledge and skills for both individual and group care (vaccination, preventive medication, etc.), such as outbreak response in refugee camps
Manage staff health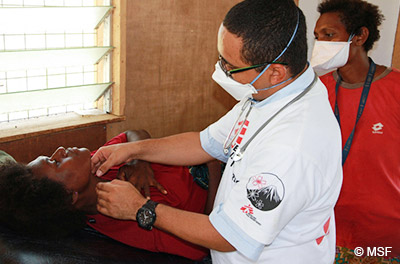 Qualifications
Requirements
Essential

Compliance with Essential Requirements for all potential candidates

Essential

Holder of a medical doctor's degree

Essential

Certified general physician with active license

Essential

Degree or clinical experience in tropical medicine

Essential

Ability to work in English and/or French

Essential

Management/teaching experience

Desirable

Extensive experience in emergency care (including minor surgery)

Desirable

Over 1 year experience in paediatrics, ICU, and obstetrics

Desirable

Clinical experience with an NGO in a developing country

Desirable

Arabic communication skills

Desirable

Available for a minimum of 6 months
Submit your application
Please first prepare your CV (free form) and a motivation letter. Some positions may request you to download and fill specific CV (MSF CV template) and a technical check list. Please check below to ensure document(s) requested for your profile. You need to fill all necessary documents in English or French, then complete your application through our online form.
①

CV (free form)

②

Motivation letter
Médecins Sans Frontières (MSF) accepts applications for international positions through the form below.
Online application
Medical Guidelines
Information about clinical and medical necessities for MSF's activities in developing countries, such as required medical supplies, clinical guidelines, refugee healthcare, tuberculosis, obstetrics, and so on, is available on our website (English)
. PDF materials, ebook materials, and a smartphone application are available for download. Printed materials are made available at our information sessions.