Anaesthetist

Anaesthetists work with limited medical equipment, supplies, and facilities to treat trauma patients of all ages, following guidelines set by MSF. Adaptability in high-stakes situations, strong judgement skills, and technical skills during surgery are required. Anaesthetists are responsible for anesthesia during caesarean section in obstetrics as well as making preoperative and postoperative rounds, including pain management in the hospital ward and medical examinations for critically ill patients. Guidance and training of locally hired staff are also important work done in this position.
Activities
Perform risk assessment through preoperative examination together with the surgeon to determine the method of anaesthesia; manage and carry out all requirements during and after surgery, such as preparation of medicine and equipment, monitoring of the patient, and in some cases, postoperative ICU care for critically ill patients
Ensure patient movement to recovery room and regaining of consciousness; set analgesic protocol
Monitor and manage body fluids, oxygen, airway, chest physiotherapy, chest movement, etc.
Practice and supervise rules, procedures, and MSF guidelines regarding hygiene in operating and recovery rooms; supervise anesthetic supplies (decontamination, disinfection, storage, etc.)
Manage and order anaesthesiology equipment and pharmaceutical supplies
Manage teams (recruitment, training, performance evaluation, etc.)
Submit activity reports and manage data (patient files, forms, statistics, databases, etc.)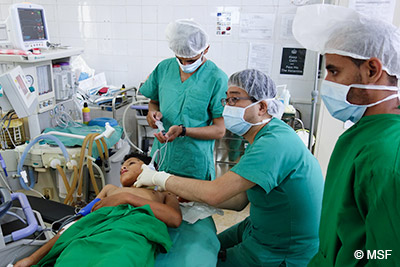 Qualifications
Requirements
Essential

Compliance with Essential Requirements for all potential candidates

Essential

Certified anaesthetist active license / registration

Essential

Experience in the field of education or in teaching newcomers

Essential

Ability to work in English and/or in French

Desirable

Knowledge or clinical experience in tropical medicine

Desirable

Clinical experience in environments with limited human resources and materials, such as isolated islands, remote areas, and developing countries

Desirable

Clinical experience or training in disaster medicine and mass casualty management

Desirable

Clinical experience in areas other than anaesthesiology, such as ICU and emergency aid

Desirable

Available for a minimum of 6 weeks
Submit your application
Please first prepare your CV (free form) and a motivation letter. Some positions may request you to download and fill specific CV (MSF CV template) and a technical check list. Please check below to ensure document(s) requested for your profile. You need to fill all necessary documents in English or French, then complete your application through our online form.
①

CV (free form)

②

Motivation letter
Médecins Sans Frontières (MSF) accepts applications for international positions through the form below.
Online application
Medical Guidelines
Information about clinical and medical necessities for MSF's activities in developing countries, such as required medical supplies, clinical guidelines, refugee healthcare, tuberculosis, obstetrics, and so on, is available on our website (English)
. PDF materials, ebook materials, and a smartphone application are available for download. Printed materials are made available at our information sessions.