Mobilizing Supporters

MSF Japan has started the "Local Supporter Group" pilot project - the "Tokai Friends" are active.
In 2021, Médecins Sans Frontières (MSF) Japan developed a concept of the "Local Supporter Group (LSG)" to strengthen its relationship with its supporters. Subsequently in Spring 2022, a LSG pilot project was launched in the Tokai region.
The Tokai Supporter Group, also known as Tokai Friends, are active and will continue their work until summer 2023. The group consists of nine members – Association members (people who have worked for MSF Japan in helping achieve our humanitarian and medical goals) and MSF Japan volunteers. The Tokai friends will organize small events in the local communities, to increase awareness and to build understanding of Humanitarianism, and MSF Japan's activities.
Fall 2023, MSF Japan will conduct a comprehensive review and evaluation to validate whether the LSG concept and its framework are fit for a potential expansion to other locations.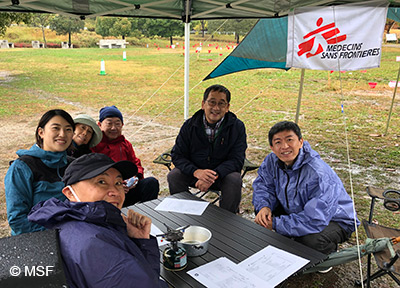 Hello, we are "MSF Tokai Friends"!
In response to MSF Japan's call to form a community-based network of MSF supporters in Japan, we came to gather and started our activities by naming ourselves as "MSF Tokai Friends". We aim to increase people's understanding of humanitarianism in our communities of Tokai, with our slogan "to gain empathy, and to expand the empathy beyond our group". We meet online every two weeks to brainstorm on and plan our activities. Enjoying our teamwork, each one of us is committed to contribute in this program so that many more of our future "Friends" can join in the Humanitarian movement together. We are looking forward to seeing you in our events.
Outline of the Local Supporter Group pilot project
Project duration

Spring 2022 – Fall 2023

Group membership

MSF Japan Association members and registered volunteers in the Tokai region (existing supporters)

Group's objective

Within their local communities, the group will strive to organize external events to increase awareness and build an understanding towards Humanitarianism, MSF and its activities.
Last updated:November 2022