Mentoring creative problem-solvers

How can we unleash the creative thinking of all MSF staff and fully develop their subsequent ideas for solving the challenges MSF faces?
To be successful, innovation cannot be the responsibility of only one corner of an organisation – it must be a duty shared across departments. At the Japan Innovation Unit, our own critical reflections repeatedly bring us back to this point and the need to ensure innovation in MSF does not become the responsibility of innovation units only.
We believe that through appropriate organisational and systems design, the creative thinking of all MSFers can flourish. In this way, the organisation can become more sensitive and adaptive to contextual shifts, as well as develop and sustain the capacity to change the way it operates. Such flexibility would help increase our access to, and our impact on, people most in need.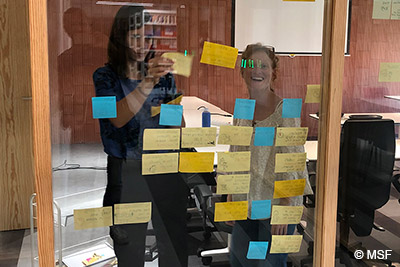 The Japan Innovation Unit is working with the Operational Centre Barcelona to design and pilot a programme that supports staff so they can identify and create their own solutions for problems they encounter.
Progress so far
In March 2021, we had the first trial of the online modules on MSF's online learning platform TEMBO. The modules are now being revised and the second trial is planned for 2022.
Specialty

Organizational and System Design

Schedule

Ongoing since 2019

Clients

MSF Operational Centre Barcelona

Partners

MSF Mentoring and Coaching Hub
Last update: September 2021
Contact
MSF Japan Innovation Unit
MSF Japan Innovation Unit is providing innovative ideas of solutions to the MSF activities. If you, either as a company or as a professional, have an idea that would be beneficial to our projects as well as patients, please contact us. Your innovative proposal is always appreciated.