Hypothermia in newborns

How can we better prevent neonatal hypothermia in MSF field projects?
Hypothermia is a major contributor to neonatal morbidity and mortality in low- and middle-income countries. This holds true even in places with warmer climates. The standard protocol - using an incubator - is ill-suited for low-resource settings. Incubators are expensive; need reliable electricity; and require significant training to operate, keep clean and maintain.
At the Japan Innovation Team, we are drawing on our neonatal expertise and particular strengths in problem analysis to clarify the shortcomings of existing equipment and practice. Similarly, we are analysing the various contextual challenges that any alternative warming solution must also be able to handle. In this way, we will be able to identify what constitutes a realistic solution.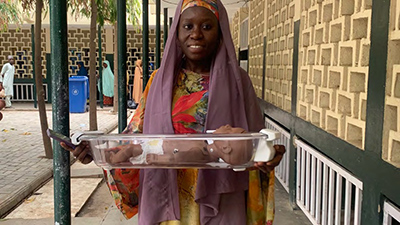 Progress so far
We have finalised the first phase of this project, in which we clarified problems with existing equipment and practices, and defined the specific qualities of the warming solution that MSF projects need. We shall next use that information to identify all viable product- and process-based solutions.
Specialty

Neonatal medical care

Schedule

TBC

Clients

MSF Operational Centre Barcelona and MSF Paediatric Working Group

Partners

Design that Matters
Last update: December 2019
Contact
MSF Japan Innovation Team
MSF Japan Innovation Team is providing innovative ideas of solutions to the MSF activities. If you, either as a company or as a professional, have an idea that would be beneficial to our projects as well as patients, please contact us. Your innovative proposal is always appreciated.