Hypothermia in newborns

How can we lower prevent neonatal hypothermia rates in MSF field projects?
Hypothermia is a major contributor to neonatal morbidity and mortality in low- and middle-income countries. This holds true even in places with warmer climates. The standard protocol - using- an incubator - is ill-suited for low-resource settings. Incubators are expensive and are hard to repair when they break down; need reliable electricity; and require significant training to operate and keep clean. Working with Design that Matters (a US-based NGO), the Japan Innovation Unit is working on ways to lower hypothermia in MSF facilities.
Together with MSF staff in the field and subject matter experts, we identified the gaps that are causing hypothermia. We also developed requirements that any solution would have to meet. Any solution needs to easy to use, be effective, context appropriate (e.g. rugged, easy to clean, easy to fix) and also appear effective. This fact-finding phase was closed by the end-2021.
Using the set of requirements, and consulting with subject matter experts, we developed a prototype for a neonatal warmer. We gathered feedback on the prototype from pediatricians at MSF headquarter level, as well as nurses, doctors, and other staff in MSF neonatal wards. This phase was closed end-2022.
Now, we have started working with a medical device manufacturer in Vietnam to develop the prototype into a commercially available, certified medical device.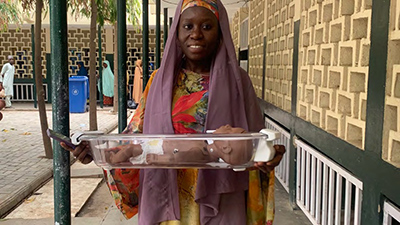 Progress so far
We have determined needs and identified a solution. We have established production and certification requirements. We are working on a production prototype that will be finished early 2024. The finished product should be available on the market by end 2024.
Specialty

Neonatal medical care

Schedule

Finalization of innovation project by end 2024

Clients

MSF WACA and MSF Paediatric Working Group

Partners

Design that Matters
Last update: July 2023
Contact
MSF Japan Innovation Team
MSF Japan Innovation Team is providing innovative ideas of solutions to the MSF activities. If you, either as a company or as a professional, have an idea that would be beneficial to our projects as well as patients, please contact us. Your innovative proposal is always appreciated.