Monitoring newborns' vital signs

This project was closed.
How can MSF monitor newborns' vital signs better in low-resource settings?
The equipment MSF uses to monitor the vital signs of newborn babies has three major downsides. First, it has high procurement and maintenance costs. Second, servicing the machinery is complicated. Third, MSF lacks enough health care staff experienced in using the equipment.
Drawing on our neonatal specialisation, we at the Japan Innovation Unit are exploring ways to monitor newborns' vital signs that can overcome those three challenges. In this way, we believe we can improve early detection of patient deterioration and timely clinical response, ensure better quality measurements in contexts that lack trained personnel, and increase overall clinical workflow efficiency. This would raise the quality of MSF's neo-natal care.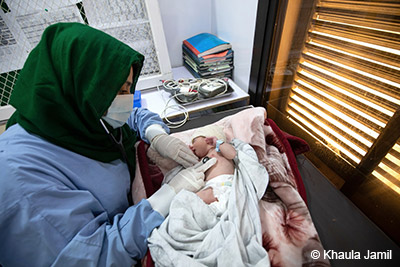 Progress so far
We have completed our proposal in 2019. The next step is to test our solution in an MSF newborn care unit.
Specialty

Neonatal care

Schedule

TBC

Clients

MSF Operational Centre Paris, MSF Sydney Medical Unit
Last update: December 2019
Contact
MSF Japan Innovation Team
MSF Japan Innovation Team is providing innovative ideas of solutions to the MSF activities. If you, either as a company or as a professional, have an idea that would be beneficial to our projects as well as patients, please contact us. Your innovative proposal is always appreciated.